5 E-commerce Trends to Follow in 2020
With the general change in online shopping behavior, staying competitive is key. The number of people who make purchases from their mobile devices keeps growing. Buyers become more and more demanding: they hate wasting their time, they anticipate store navigation to be intuitive, they want to have preferred payment methods at their fingertips, they expect to be getting the ultimate user experience.
While the things mentioned above are already well-known about how customers like to shop online, what are the innovations and fads in the ever-onward-moving world of e-commerce? On this page, we share the hottest trends that you might consider implementing.
Top Trends in E-Commerce
1. Progressive Web Applications (PWA)
Being a "hybrid" combination of a standalone application and a responsive website, PWAs have recently been among the most desired solutions in e-commerce. The technology gifts online retail with outstanding performance and lightning-fast page opening time capabilities. A PWA can even function offline!
For example, if your store is built on Magento 2, with the use of professional Magento performance optimization services, you can turn your website into one that customers love. For starters, there won't be a need for the expensive development of a native app that requires downloading on devices. Secondly, online stores with PWAs are easily accessible and visible to search engines. Thirdly, top-notch performance, simple navigation, great speed, topped with the UX and look that's reminiscent of an app are among the things not to miss out on. Case in point, Lancôme USA has long been successfully making use of their progressive web app.
2. Augmented Reality
Real-time beautification and face mask apps have already won over the hearts of thousands of people around the globe. But how is augmented reality (short for AR) used in the e-commerce sphere?
The new decade has found a creative approach to combine the opportunities of augmented reality modules with online sales. Giving customers the possibility to virtually try on the products by using their device's camera has been taking many e-commerce fields by storm.
As such, virtual makeovers have become highly popular in the cosmetics industry, for instance, companies including L'Oreal and Sephora make it possible to see how a shade of lipstick looks on you. Similarly, numerous companies that sell clothes or accessories, such as earrings or glasses, have already given AR a shot as well, allowing shoppers to remotely check out whether the product suits them. That said, the world-famous brand, GUCCI, already has its very own shoe try-on app for iOS.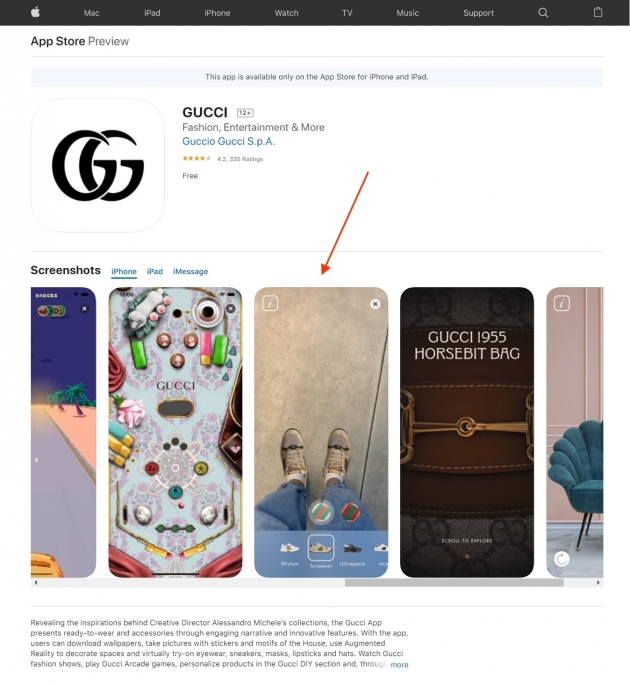 Moreover, giving another example of AR in e-commerce, furniture brands have raised their sales by giving their clients the chance to experience how the armchair (or other items that they're browsing) will look in the corner of their living room. As you can see, the opportunities here are endless!
3. Personalized Shopping Experience
Another trend deals with taking up-selling a step further than just the display of "Related items" or "Product Alternatives" on your store. Creating a personalized shopping experience on the grounds of analysis is yet one more idea to jot down.
After analyzing which items "go well" with the one that's selected, as well as by singling out the common choices made by each specific client, you can offer items or combos to their taste.
Based on previous buys, technology tracks and jots down the data on the things that the user tends to choose. When obtaining such knowledge, it is then possible to make personalized product selections (ex. with the colors, styles, or brands that a buyer might fancy) that could be then pitched to the customer. In particular, these can be "What else you might like" or "Customers Who Bought This Item Also Bought" sections on product pages or auto-generated content for email send-outs to name a few options. Take a look at such a block on the ASOS site.
Such offerings can boost the probability of the client to purchase more from you. Not to mention, that it makes it likelier for the customer to make a subscription that'll result in your longer-lasting relationships.
4. Chatbot Shopping Assistants
Getting a consultation hasn't been easier with the advent of nitty-gritty chatbots. Their strong sides include the fact that they're always available, meaning your customers aren't limited to the working hours of support specialists or whoever is responsible for communicating with clients.
Generally functioning on the basis of pre-written scripts and scenarios, the installed bot is able to give automatic replies to frequently asked questions and client inquiries. Being fast in finding relevant search results, the chatbot gets smarter the more replies it gives.
5. Voice Recognition Assistants & AI
Finally, it cannot be left unmentioned that artificial intelligence has been winning e-commerce hands down. The machine learning algorithms are already capable of changing the product set that a person sees on the category page based on personal preferences (i.e. three different people browsing one same catalog category may be seeing different products or product arrangements). Imagine how far it'll get in a while?
The focus of AI is to better understand what the customer really wants and to help the person to find what they're looking for faster and more "on point". Speaking of search, enabling voice recognition for voice shopping is one more trend. Stores that "keep in touch" with assistants, such as Siri that communicate with people verbally, can increase their chances for the sale.
A good example of voice commerce is the Amazon Echo, a smart speaker system that can connect with Alexa and accept voice commands. Noting what it can do with e-commerce, Alexa is able to find the product matches based on the given description that a person says in words to their language assistant and can even order the item. It's simply amazing!
All in all, by pandering to the tastes of specific users, artificial intelligence helps make customers happier and the retail side to sell more.
To conclude the above, e-commerce doesn't stand still. New technologies need to be implemented in order to move with the times, adapt to the changing behaviors, grant new possibilities to consumers, and, of course, to run a business that'll be competitive. Hopefully, you've found this overview of the recent trends helpful!
blog comments powered by

Disqus