How Better Inventory Management Brings in Higher Sales
Selling products doesn't just require a clever marketing plan. Every element of a business can be optimized to increase profits. This includes inventory management.
Inventory is the core of any online or retail business. For a modern business to succeed, you need to minimize the cost of storage and dispatch your products quickly and efficiently. This is essential given the expectations that consumers have thanks to the efficiency of companies like Amazon.
Inventory management is essential to the smooth operation of your business and, when mismanaged, can cause considerable losses in revenue. Messy inventories can now be a thing of the past with new methods of business automation. Streamlined inventory management means better workflow for employees and, in effect, an increase in profit. We've narrowed down some of the ways you can increase sales through improved inventory management.
Easy transition to Omnichannel Sales 
Maintaining a business today means being accessible to customers on as many platforms as possible - from ecommerce websites, social media to physical stores. Customers love having the option to shop anywhere. Companies that can manage a presence across multiple platforms reap the rewards. Invesp found that businesses with omnichannel sales retain 89% of their customers, versus the 33% retention of single-channel companies. 
When handling sales across multiple channels, it's essential to have the right tools in place to manage orders. The last thing you want is friction between outlets, which leads to mismanagement of budget, slow shipping services, and a mismatch in inventory numbers, among other things.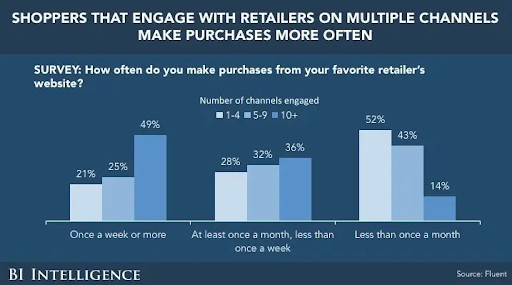 Source: BusinessInsider
Inventory management keeps stocks organized and visible. If you have good visibility, you can make informed purchase decisions and avoid selling products that are out of stock. Just as importantly, you can start to manage the dispatch and, if needed, the return of goods through different channels.
Selling on multiple platforms will lead to more sales, but there needs to be an efficient management system in place. Additional channels add a level of complexity to stock management, which can be addressed through a good inventory management software solution.
Improved Customer Satisfaction
Customers expect shopping experiences to be as easy as one click. With 86% of buyers willing to pay more for better customer service, many ecommerce and retail businesses are focusing on this as a key differentiator.
What does this mean for inventory management? 
Brightpearl's Retail Tech Stack reported that 62% of retailers believe that inventory management is vital to the customer experience. Improved customer satisfaction means creating trust and visibility with customers. This means ensuring product availability. Importantly, it also involves keeping them up-to-date when items are restocked or shipped out. You can do that via email or using chatbots which can answer customers queries related to shipping and products' availability in-real time when they land on your website.
With an accurate inventory, it's possible to cross-sell or run special promotions online without worrying about the implications of overselling. With efficient management, businesses can also address buyers' needs promptly. With 63% of shoppers expecting 1-day shipping, speedy processing and shipment of orders are of the utmost importance. Unfortunately, 34% of businesses fail to ship orders on time due to mismanaging their stock; this results in high customer churn. An effective inventory management system helps to prevent this. 
Prevents Under and Overstocking
Your inventory is only valuable if it's being sold. Unfortunately, predicting demand is a difficult task. According to a study by IHL Group, the cost to retailers of overstocking in North America is in the region of $123.4 billion annually. Loss in revenue from out of stock products meanwhile is in the region of $129.5 billion.
While understocking leads to lost sales, overstocking leads to more markdowns. Think of those post-Christmas sales when businesses have to sell up to 70-80% off. In the worst case, overstocked products become worthless as demand for products dry up.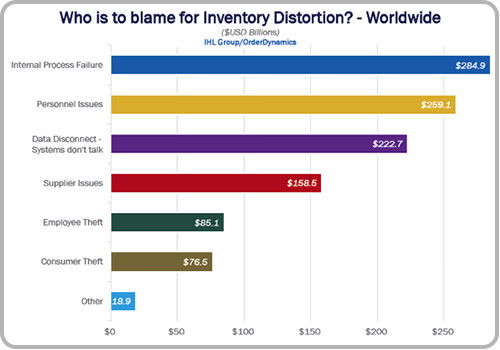 Source: Retail Wire
Something to keep in mind with today's business is the increase in customer returns. UPS reported that online orders are returned 30% of the time versus the 9% return rate of brick and mortar stores. This adds another level to inventory management, which helps in facilitating a more organized stock. 
Forecasting tools can help you overcome problems with managing inventory. I'll cover this in a bit more detail in the section below. However, it's worth keeping in mind that accurate inventory management forms the basis for an element of demand forecasting.
More Accurate Demand Forecasts
Forecasting demand allows you to prepare for the future by using data like current trends, buyer habits, and how much time it takes to create your product. Accurate demand forecasting is especially important if your business relies on seasonal sales such as Christmas shopping, which make up to 20% of gross annual sales. 
There are two demand forecasting models:
Qualitative Demand Forecasting: This is the experimental method and used when there's no historical data, like when calculating sales of a new product. The data used here can be assessments from suppliers, focus group discussions, or customer surveys. 
Quantitative Demand Forecasting:  This is when existing numbers like price, sales numbers and even weather can be tapped to make a forecast, it relies on cold hard numbers to make smart decisions. 
According to research conducted by EIQ Research Solutions, 34% of the top 50 US retailers report poor forecasting accuracy. This means even with proper tools, demand forecasting can be inaccurate. Which is why it's important to get as much data on your side when making predictions.
Proper forecasting is generally a great way to streamline valuable data. Using a flexible inventory management system can help in keeping the needed data straight. 
Wrapping Up
Businesses are making more money by having purchase points on as many platforms as possible - both online and offline. This means that inventory management needs to be a top priority when hoping to increase sales. Organized and well-managed inventory means giving your employees better ways to sell, allows for accurate forecasting data, and can save money by preventing an over or under stocked warehouse. 
A strong marketing plan is one thing, but at the end of the day, your inventory has to arrive in your customer's hands. This won't happen with a mismanaged inventory system. It's time to take advantage of technology and make an efficient inventory management system work for you. 
Author Bio
Nick Shaw is the Chief Revenue Officer (CRO) of Brightpearl and is responsible for Global Marketing, Sales and Alliances for the leading retail inventory management software provider. He has written for sites such as Hubspot and G2.
blog comments powered by

Disqus