OpenCart 3.1: What Does the Recent Alpha Tell Us About the Next Full Update?
OpenCart first hit public release way back in 1999, and it's come an incredibly long way since then, keeping pace with newer, better-funded and paid rivals. However, it hasn't seen a real update for over a year at this point, with version 3.0.2.0 being released in July 2017.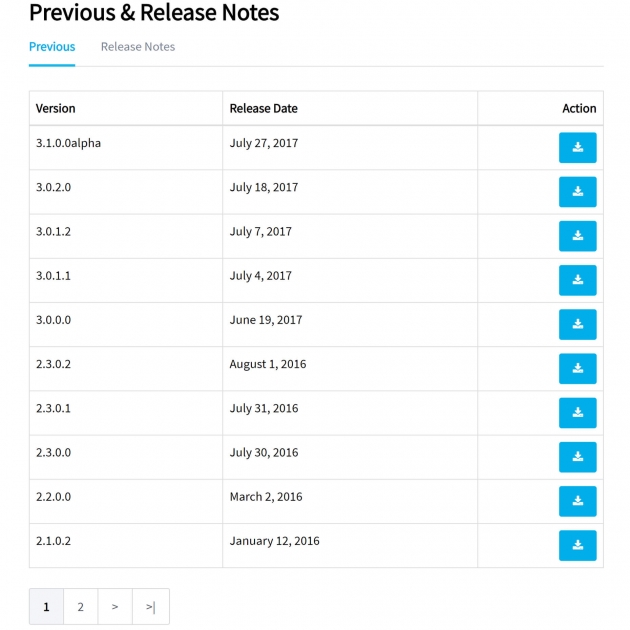 Due to the magic of the open source community model, though, we don't need to wait until the next full release to see what's up next — the most recent listed alpha version (above) may date back a year, but there has recently been a fresh alpha version released: version 3.1.0.0_a1.
We may not yet know when OpenCart 3.1 will advance to the beta stage, let alone when it will be stable enough to be used for a live store, but we can certainly take a look at what's changed in the 3.1.0.0_a1 alpha and get an idea of what's next for this CMS — so let's do just that!
Here's what version 3.1.0.0_a1 has to offer, and what we can expect for the future of OpenCart:
Multi-language indexing support
It isn't made clear how, but it's said that this alpha release will allow for pages to be indexed in multiple languages. I assume this means the native implementation of a system for defining pages to be marked for indexing using rel='alternate' attribute tags, which makes sense given the addition of language tagging.
Language URL tagging
In this latest release, every URL generated by the catalog controller (the section of the system responsible for generating and rendering the product catalog) has a language tag appended. This is important for SEO, ensuring that Google chooses the right pages to serve.
Sitewide SEO URL support
Previous versions of OpenCart have supported the setting of SEO-friendly URLs (written to be understood by people and search crawlers), but only on specific types of page. In 3.1, you'll be able to use an SEO-friendly URL for any page.
CKEditor
An intuitive live text editor for allowing site admins to make changes without needing to enter the dashboard, CKEditor used to be packaged with OpenCart but was replaced with Summernote for 2.0 release. In the latest alpha, it takes revenge and supplants Summernote to reclaim its spot. What this means to you will depend on your personal preference, because these two editors serve similar roles — CKEditor does have many more formatting options, though.
Lambda function template editing
As part of an Amazon Web Services subscription, you can use AWS Lambda in OpenCart 3.1. It's a serverless computing system for handling on-demand tasks. Because you only pay when your code is running, it doesn't cost anything to store your templates, and you can update them at no cost.
A cron job system
Cron is a Linux-based scheduling system that allows you to set specific tasks to be run at certain times. Previous OpenCart extensions would create cron jobs but handle them in unclear ways — 3.1 adds a dedicated section to the dashboard for monitoring and adjusting cron jobs.
No more mixed SSL
Now that Google is requiring all sites to have SSL certificates or else be presented as sites that cannot be trusted, mixed SSL methods (delivering HTTPS and HTTP content under an HTTPS banner) have become ineffective. As such, they have been removed from OpenCart settings in this alpha — it's full SSL or nothing, and we can expect this to stick for the full release.
GDPR and cookie policy compliance
The developer who released this latest alpha has stated that he will add a system for complying with GDPR and cookie policies before 3.1 hits the beta stage, so we can certainly expect it in the full release. If you're using marketing automation tools to email your customers, this is something you'll need to be aware of.
Jquery 3.3.1
A company JavaScript library with a strong and intuitive API, jQuery is an important component in many modern systems, and with the alpha bringing in jQuery 3.3.1, it's clear that we can expect the full release (whenever it appears) to bring with it the latest version of jQuery.
Bootstrap 4 Support
Bootstrap (as you may know) is a popular mobile-first framework, encompassing HTML, CSS, and JavaScript library files. Version 3.0.2.0 of OpenCart drew from Bootstrap 3, but this most recent alpha draws from Bootstrap 4, so we can expect that to carry over to the full release. This should mean a more robust set of default options without further extension.
Font Awesome 5
Font Awesome is a broad icon pack, and OpenCart 3.1 seems set to release with version 5, which consists of a complete redesign of version 4 resources. Icons are particularly important for mobile browsing, so this is certainly a good thing.
So, what do you think of this glimpse into the future of OpenCart? Do the new features seem promising to you, or is there something in particular you're hoping will be added as it moves from alpha to beta and towards final release? There's still plenty of time for development to continue, so we're likely to see even bigger changes soon enough.
Patrick Foster is a writer and ecommerce expert from Ecommerce Tips. He likes the sound of serverless processing, but isn't quite ready to relinquish that much control. Visit the blog, and follow on Twitter @myecommercetips.
blog comments powered by

Disqus