5 Instagram Stories Tips and Tricks to Optimize Your Social Media Marketing Efforts
If you think Inrestagram Stories are only for sharing funny, entertaining, and momentary content, then you're in for a surprise.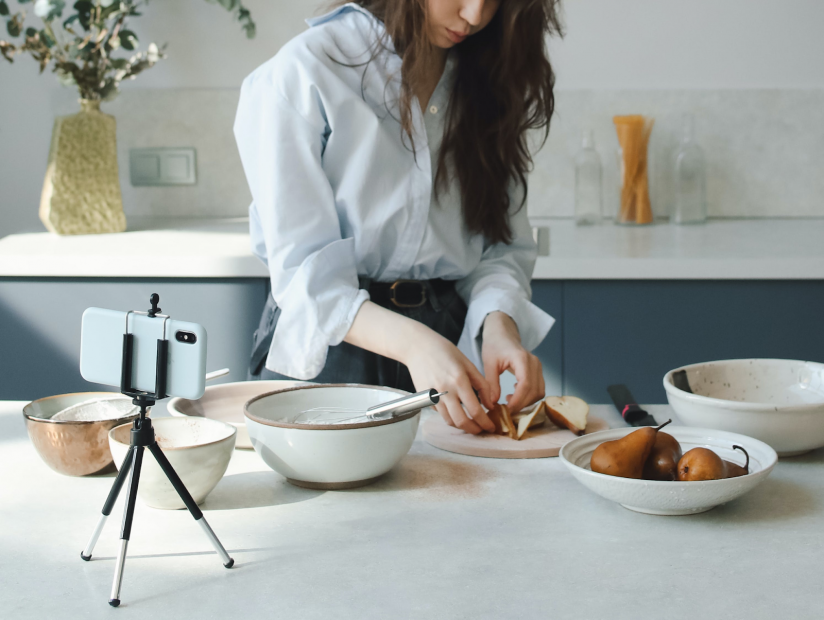 Image Source: Pexels
With the right strategies, you can leverage IG Stories to support your social media marketing efforts and, in turn, help you drive engagement, generate leads, and increase your conversions and sales.  
If you're still unsure about leveraging Stories to help amplify your social media marketing, then these five Instagram Stories tips and tricks can help you decide.
1. Use the Questions stickers to encourage interactions
Interacting with your Instagram audience can help increase your engagement rates and boost your lead generation efforts.  
Using the Questions sticker on IG Stories is an excellent tactic to encourage interactions. You can gather feedback on your products and invite your audience to Question and Answer (Q&A) sessions.

For instance, you can use the Questions sticker and include the favorite questions to ask on an Instagram Story—from asking your audience about the specific product feature they like to the top five songs in their workout playlist.

You can reply to your audience's question submissions directly via Direct Message (DM) or a new IG Story.
To streamline creating and posting your Instagram Stories, use reliable Social Media Marketing (SMM) platforms such as Vista Social.
The platform's sophisticated and advanced SMM features can put your social media marketing on steroids.
It can automate your social media content publishing, from IG Stories to tweets. You can schedule your posts to publish on a specific date and time and add them to a queue.
Image source: vistasocial.com
The platform's Smart Publisher can create and publish your social media content for you, saving you tons of time and energy.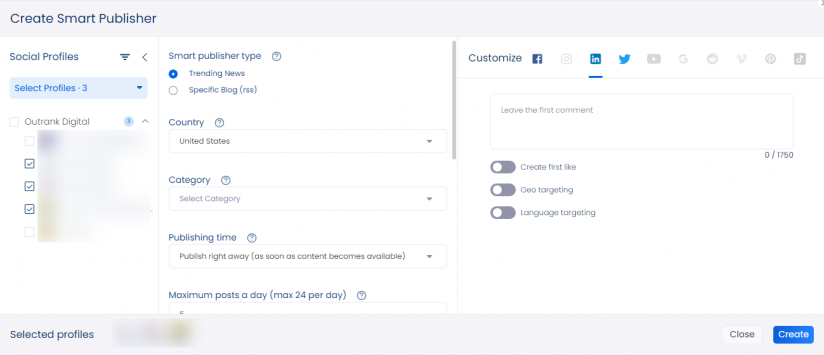 Image source: vistasocial.com
Vista Social also provides a centralized inbox to manage your messages across social media channels. Other features include a reviews management feature and reporting tools that let you auto-generate reports on a schedule.
Leverage a powerful yet affordable SMM platform to supercharge not just creating and posting your IG stories but all your content across social media networks. 
2. Leverage Product stickers to promote what you sell
Besides promoting your products through images, videos, and other content on your feed, you can also promote them on your Instagram Stories.
Use the Product stickers to integrate your products into your Stories content. It's a great way to make your Stories shoppable, allowing your audience to shop quickly.
After setting up your IG business account for Instagram Shopping, follow these steps to set up the shopping or product sticker.
Create your Story
Tap the sticker icon at the top of the screen
Tap the Product sticker
Select the product from your catalog you want to tag
Adjust and move the shopping sticker accordingly by tapping and dragging it
Share your Story when you're done
Users can click the product sticker on your Stories and see the page with the product's details.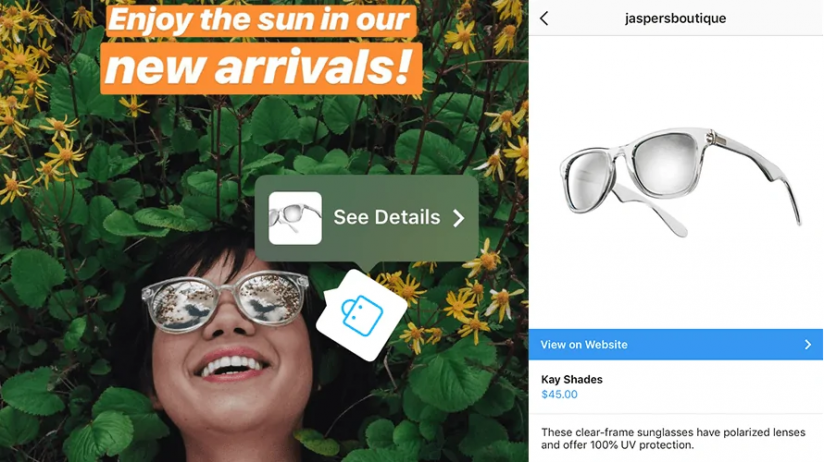 Image source: adweek.com
The page also includes more details, product images, similar items, and a link to your website.
Besides making your products shoppable and promoting them on IG Stories, share some behind-the-scenes look into your product development process.
It's a great way to spark your audiences' interest while sharing information about your product's quality, features, etc. 
If you're using reliable user story software, you can gather data and insights you can translate into easy-to-consume IG Stories and other social media content to engage your audience.
3. Opt for a vertical and lo-fi format
Creating Stories using various creative assets and formats lets you provide diverse content that can help you engage and connect with your audience.
However, it's always best practice to use the IG story format types that your audiences generally prefer and will most likely watch and engage with.
For instance, you can get better results by planning and shooting your Stories in vertical format. The screenshots below from Vans' IG Story are classic examples of Stories shot in this format.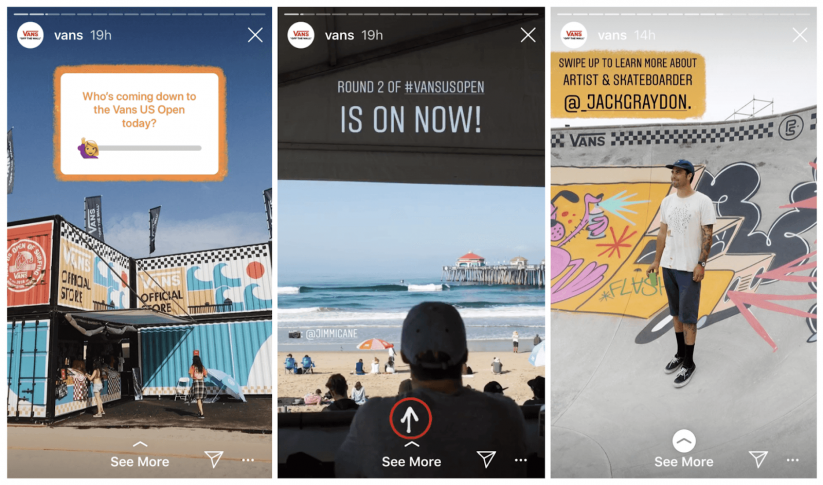 Image source: oberlo.com
Most IG users prefer mobile-shot Stories in the vertical format since these look similar to regular Instagram users' content.
It's an excellent way to provide users with what they expect to see while making your brand come off as familiar and your content relatable.
Using the vertical format can also help you provide a less intrusive and more immersive experience for your audience.   
Get valuable insights and data from top-tier customer engagement platforms if you want to drill down on the content and format your audience prefers.
Leverage the information to analyze previous and current customer interactions, sentiments, and pain points (among others) to tailor your content to your audience's needs and preferences.
4. Integrate the visual identity of your brand
Your IG Stories don't need to have the same quality and production value as your other marketing creatives and assets, such as your landing page.
However, it's still crucial to incorporate your brand's visual identity.
Doing so reinforces your brand identity, helping you spread awareness and increase brand recognition.
For example, you can include your brand colors in your text overlays and other branding elements. Try to keep your branding elements minimal to avoid making your content look overcrowded.
Consider creating a specific style guide for Instagram (and Facebook) Stories as part of your content development process.
Your style guide makes it easy to ensure consistency in branding fonts, colors, and GIFs.
You can also use IG Story templates to simplify creating your Stories. You can customize the template and add your branding elements with ease. 
Add the appropriate amount (and types) of branding elements to your Stories while avoiding creating overly promotional content.
5. Make the first three seconds count
If you want to get your audience to stick instead of scrolling past your IG Story, then convey your main message within the first three seconds.
It might sound too fast, but if you design your Stories right, you'll have enough time to get to the point quickly.  
Include consistent, branded visuals and your Unique Selling Proposition (USP) or the value and benefits for your audience. It's a great way to give your viewers a reason to keep watching and, in turn, engage with your brand and act on your offers.
For instance, if you run Instagram Story video ads or share giveaway announcements, ensure your USP or offer displays within the video's first three seconds.
Doing so instantly shows the benefits viewers can get, enticing them to keep watching and engaging.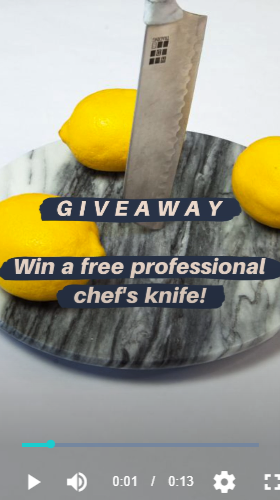 Image source: animoto.com
Speed up your video if necessary without compromising the quality that makes the content hard to comprehend or see. 
You don't always need fancy equipment to create your videos since you can easily use free or affordable video editing apps. You can even speed up your videos with your iPhone.
Boost your social media marketing initiatives with IG Stories
Explore the potential of Instagram Stories to amplify your social media marketing efforts.
Jumpstart your efforts by applying the tried and tested tips in this guide and developing your own tactics as you continue to enhance your social media marketing strategies.
blog comments powered by

Disqus