What's the best One Page Checkout for OpenCart?
As an online retailer, you know that a smooth and seamless checkout process is crucial for converting visitors into customers. One-page checkout extensions have become increasingly popular in the world of e-commerce, as they streamline the purchasing process and reduce cart abandonment rates. In this article, we will review some of the notable one-page checkout extensions available in the market, including AJAX Quick Checkout PRO by Dreamvention, Quick Checkout by oc-extensions, and Quick Checkout by MarketInSG
Quick Checkout by MarketInSG - $39.95
Quick Checkout also provides flexibility in terms of field customization. Merchants can easily hide or toggle fields via the admin panel, allowing for a more personalized and tailored checkout process. This can be especially useful for reducing friction in the checkout process and improving conversions by only collecting essential information from customers.
You can read more on this extension here.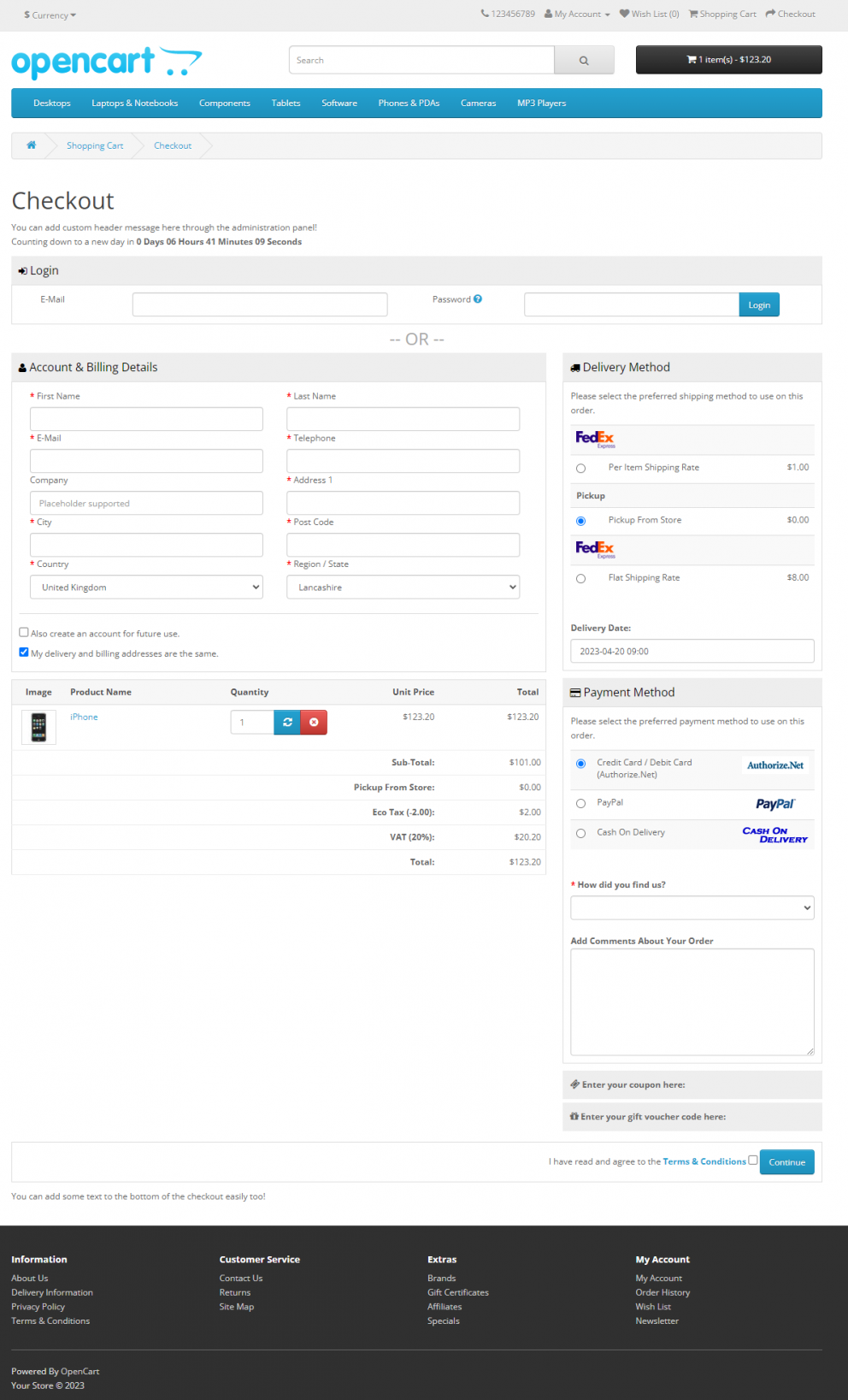 AJAX Quick Checkout PRO by Dreamvention - $55.99
AJAX Quick Checkout PRO by Dreamvention offers a one-page checkout experience with a different layout compared to Ajax Best Checkout. The address/login section is located on the left, with the delivery/payment methods at the top and the cart below. However, one noticeable feature is the visible flashes from the Ajax "loading" notification that appear when typing in almost any field, which could be off-putting to some customers.
While AJAX Quick Checkout PRO does offer a free version with basic features, the Pro version provides a more comprehensive set of functionalities. However, some users may find the layout to be cluttered and not as intuitive for navigation, as it may not be immediately clear which fields need to be filled in next. Despite this, the extension does offer a simple and straightforward checkout process.
However, the extension does come with a visual editor which allows you to adjust the layout of the checkout page, reposition the elements and hide/show additional fields giving merchants control over the information collected during checkout.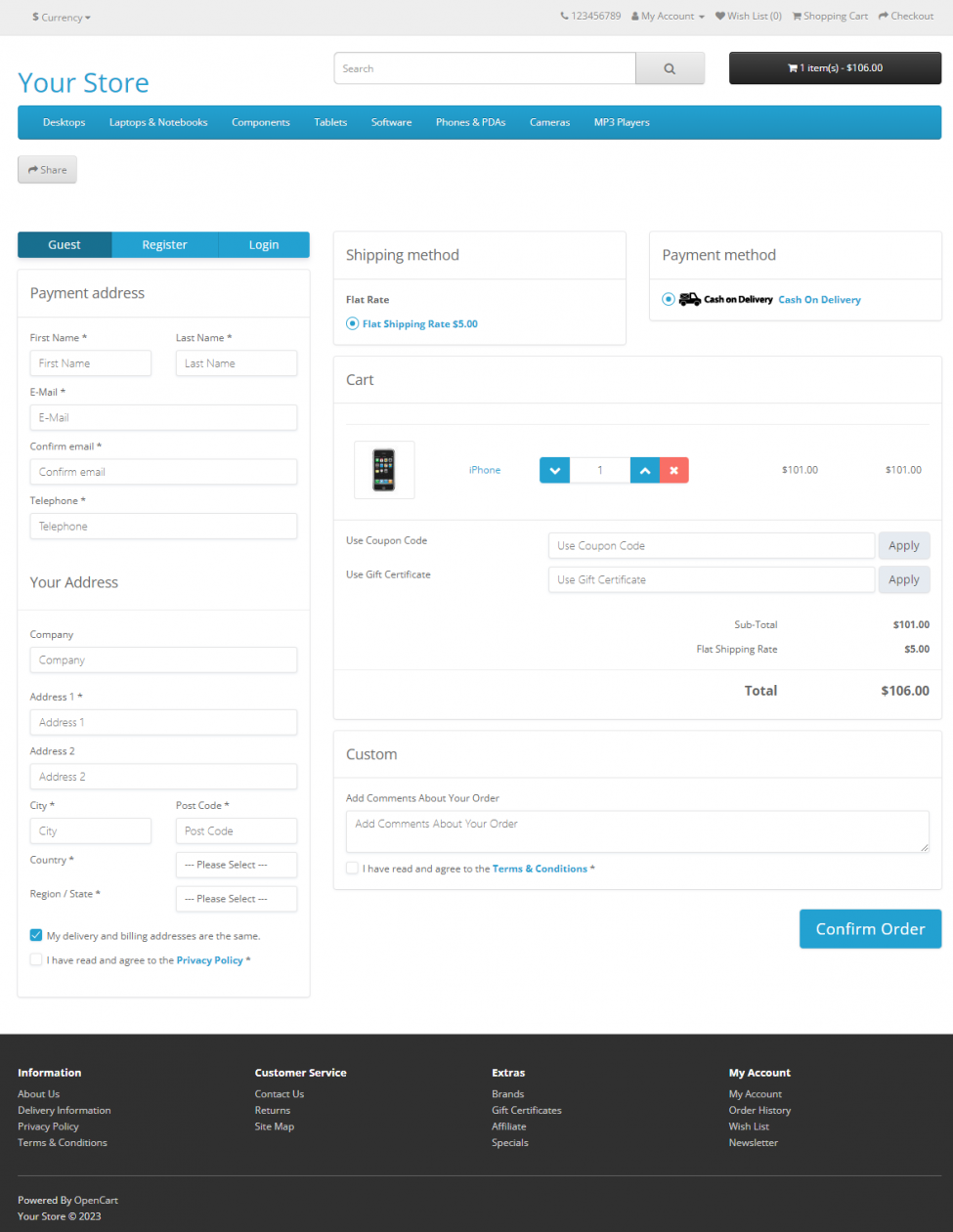 Quick Checkout by oc-extensions - $99.99
Quick Checkout is another one-page checkout extension that stands out for its simplicity. The checkout pages feature a centered logo with links back to the site, deviating from the default OpenCart header/footer design. The extension also offers a support bar at the top that can be enabled or disabled via the admin, as well as a customizable benefit bar section located beneath the header.
Unlike some other extensions, Quick Checkout displays all the checkout fields on one page, but in a vertically-scrolling format, making it easy for customers to follow with their eyes. The extension also supports Facebook login, allowing for a convenient and streamlined checkout experience for customers who prefer to use their social media accounts for authentication. Furthermore, there is a bar with a message and a link to toggle a modal to login, and a "Customer Support" phone number is prominently displayed in the header.
One of the strengths of Quick Checkout is its simplicity and clean appearance. The minimalist design may appeal to merchants who prefer a straightforward and uncluttered checkout process for their customers. However, some may find that the design looks dated compared to more modern checkout extensions with sleeker visual elements.
Quick Checkout also has some pre-installed themes for the checkout that you're able to set via the admin along with many fields can be hidden or toggled as required, giving merchants control over the information collected during checkout.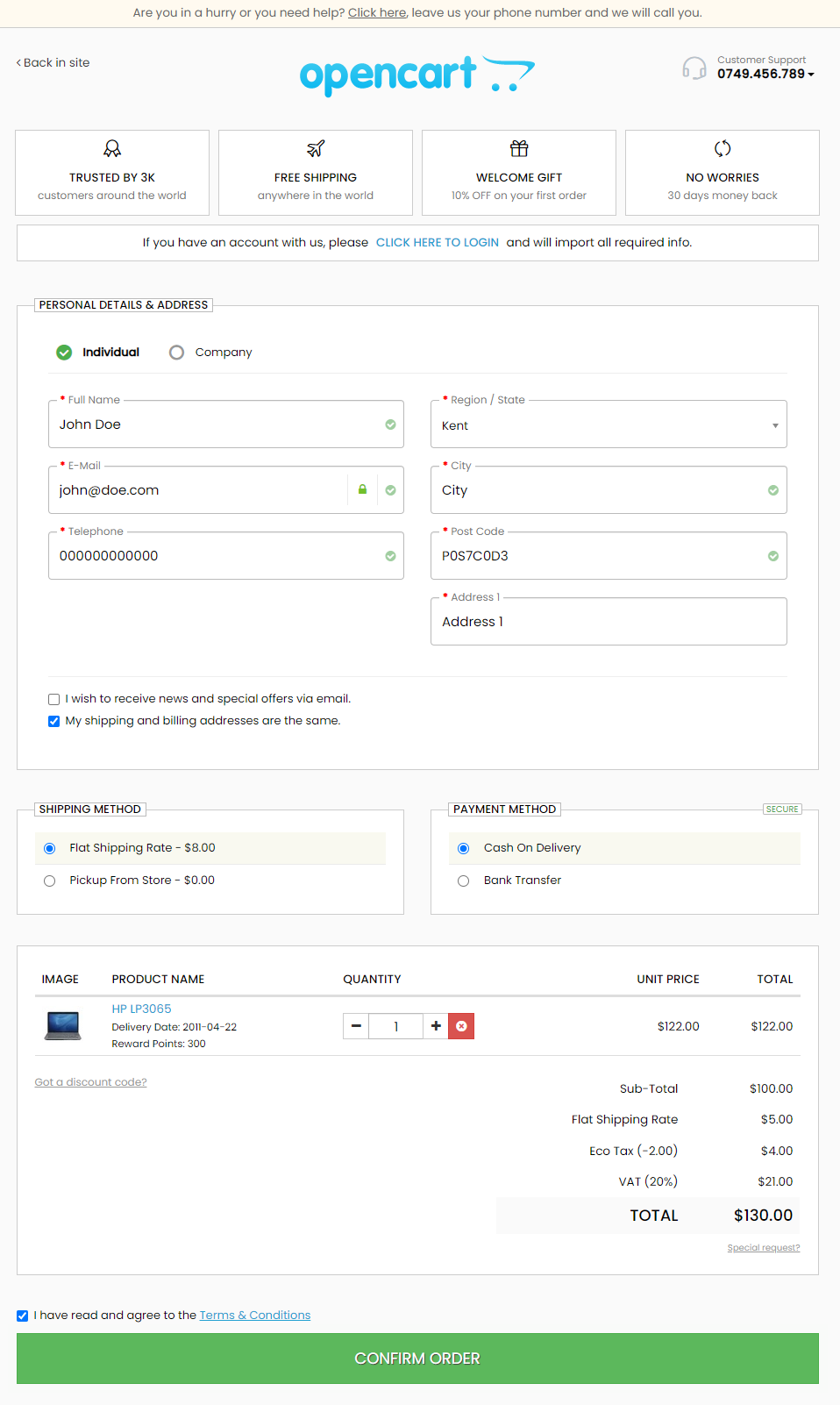 Conclusion
In conclusion, there are several one-page checkout extensions available for merchants using OpenCart, each with its own features and design elements. Ajax Quick Checkout PRO by Dreamvention, Quick Checkout by oc-extensions, and Quick Checkout by MarketInSG are three notable options worth considering. Ajax Quick Checkout PRO provides an all-in-one page layout with visible loading notifications, but may feel cluttered to some users. Quick Checkout offers a simple and clean design, with support for Facebook login and a customizable benefit bar, Quick Checkout by MarketInSG offers a clean and customisable experience.
When choosing a one-page checkout extension, it's important to consider the specific needs and preferences of your online store and customers. Factors such as ease of use, visual aesthetics, customization options, and support for popular features like social logins can all impact the overall checkout experience for your customers. It's recommended to thoroughly research and test different options to find the one that best fits your business requirements and provides a seamless and convenient checkout process for your customers.
Additionally, it's crucial to consider the reputation and reliability of the extension provider, as well as the level of support and updates they offer. It's always a good idea to read reviews from other merchants who have used the extension and to check for any reported issues or limitations.
It's worth mentioning that while these one-page checkout extensions can offer significant benefits, they are not a one-size-fits-all solution. Every online store is unique, and what works well for one may not work as effectively for another. It's important to carefully evaluate your store's requirements and select a checkout extension that aligns with your business goals and customer preferences.
Our ranking for these extensions based upon their user experience is as follows:
blog comments powered by

Disqus